Marriage and The Family from a Biblical Worldview is Dr. Rod's first book and is based upon a series of writings from his blog, Just Thinking. Here are a few of the chapter topics:
Marriage as Designed By God
There Are No Perfect Marriages
Neurotic Needs and Our Relationship Choices
What is Love?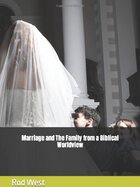 You can purchase this book on Amazon in either print copy or on kindle. Please know that when you buy this book you are helping to support the ministry of Christ-Centered Solutions. All proceeds go directly to help meet the needs of others who are seeking Biblical and Pastoral care counseling.
Find Marriage and The Family From a Biblical World View here.